Our clients are located across the globe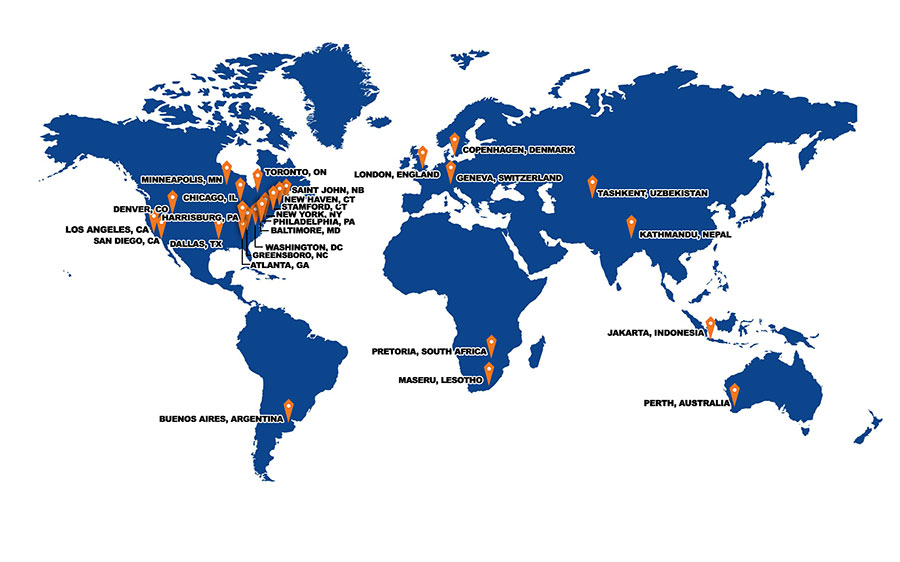 Organizational Clients
We have worked with individuals and groups from these organizations:
Advertising and Public Relations
Draft Worldwide
D'arcy
Kekst
Marketing Services Group
Ogilvy Public Relations
Consulting
Adecco
Catalyst
Lee Hecht Harrison
Schaffer Consulting
TEC Canada
Vistage
Young Presidents' Organization (YPO)
Financial Services
Allfirst Financial
ABN AMRO Bank.
Bank of New York
Blackstone
B.N.P Paribas
Citigroup
Credit Suisse, First Boston
Deutsche Bank
Geller and Company
Goldman Sachs
Ikon Group
J P Morgan Chase
Merrill Lynch
Morgan Stanley
Royal Bank of Canada
US Bank
Hospitals
Continuum Healthcare
Good Samaritan Hospital
Montefiore Medical Center
NYU School of Medicine
The Mount Sinai Hospital
Yale School of Medicine
Insurance
Ceridian
Empire Insurance Group
Marsh, USA
Met Life Insurance
United Healthcare
XL Group
Education
American Management Association
Columbia Business School
Institute for Institutional Research
Learning Community Charter School
NY City Public School System
New York University
SIPA: Columbia University
Teachers College: Columbia University
Texas A & M University
Energy
Energie NB Power
Tenaris, Inc.
Fashion
Cartier
Polo Ralph Lauren
L'Oreal
Legal
ACLEA – Association for Continuing Legal Education
Fordham Law School
Perkins Coie
Shearman and Sterling, LLP
IFC World Bank – Legal Department
New York Bar Association
UNDP Legal Support Office
Media
AOL Time Warner, Inc.
A & E Network
BeMusic, Inc.
FCB Worldwide
Gannet Company
MTV Networks
Reviewed.com
Time Warner Cable
USA Today
VH1 Networks
Not-For-Profit
American Institute of Architects
Brooklyn Academy of Music
1199 SEIU
Greater NY Hospital Association
Healthcare Chaplaincy
IFC – World Bank
IMCR:The Bronx Mediation Center
International Federation of Accountants
92nd St. Y
Safe Horizon
United Nations Development Programme
US Fund for UNICEF
United Nations
World Bank
Pharmaceuticals
Cubist Pharmaceuticals
Glaxo SmithKline
Publishing
Elsevier Publishing
Gannett
USA Today
Reviewed.com
Personal Care
Avon Products
Bath & Bodyworks
Clairol
Technology
Grasshopper Group
G2, Inc.
Instinet
Intralinks
Lloyd Group
Sennheiser Electronic GmBH & Co.
Safe Passage Neuromonitoring
Verizon
"Adam conducted a workshop for my CEO group on the topic of "Heroic Conversations." Dallas CEO's are historically a tough group to please. This workshop was very effective in that it offered practical advice and step-by-step instructions in a highly interactive format which made everyone very comfortable. Adam is a uniquely knowledgeable and talented facilitator. Most important of all, several members have applied the technique with great success."
Ed Burke, Founder/President
Vistage Chair, Dallas, Analytical Coach
"Adam presented to two groups of CEOs and business owners, and both workshops were impactful and generated strong take-away value for the participants. His style is lively, engaging and very interactive. I would have him present to another group without a moment's hesitation."
Alain Othenin-Gerard
Vistage Chair, Los Angeles
"It is rare for me to recommend a speaker. Adam Vane did a phenomenal job with my tough Manhattan group of CEOs. His workshop on Heroic Conversations resulted in one member having an epiphany and a breakthrough. Adam provides a model that every person can use in the tough conversations that CEOs have or should have on a regular basis."
Mark Taylor
Vistage Chair, Manhattan
"Adam facilitated an interactive workshop for our Annual Retreat. Attending the session were 72 of our top consultants, executives, and staff, many holding doctorates in the fields of clinical and organizational psychology. Adam's ability to create an atmosphere of trust and openness for this highly experienced audience was quite extraordinary. Important issues were discussed in a way that created new options for communication throughout the entire organization, leading to greater buy-in on our overall strategic objectives. I can strongly recommend Adam as both an interactive keynote speaker and high level facilitator of communication for any team wishing to discuss real issues."
Ilene H. Lang, President
Catalyst
"I recently attended a leadership training program led by Adam Vane. Having received extensive management and leadership training in the past, as well as having served as a Six Sigma/Qualtec Team Leader and Total Quality Manager myself, I very much appreciated Adam's learner centered teaching techniques. His expertise was never in question, but unlike so many seminars and classes I've attended, he engaged the group extremely well and steered the course to meet the needs of attendees. By creating this relevancy, Adam made the material immediately applicable. I highly recommend Adam to anyone seeking a highly qualified and credentialed consultant who also possesses a keen ability to deliver information in an effective way using excellent communication skills."
Chad Hargis, Director of Consulting
Lockstep Technology, Inc.
"We hired Adam Vane to provide 360 feedback and Executive Coaching for our senior management team. Adam has that rare ability to deliver constructive feedback in a way that can be heard and acted upon, and that was certainly our experience. We now manage time more efficiently, make better use of meetings, and provide clearer direction and feedback both across and down the organization, resulting in better and higher quality results. I would highly recommend Adam to any organization seeking high level leadership assessment and coaching."
Caryl Stern, President and CEO
US Fund for UNICEF
"I have engaged in many training programs during my more than twenty years with the United Nations. I can truly say that Adam is among the most effective teachers of leadership, persuasion and negotiation that I have ever worked with. Having been with nearly ten different parts of the UN system, including agencies, funds and programs, development, humanitarian and peacekeeping, I can state that Adam's coaching and training will produce results across the board. I highly recommend his work."
Douglas Keh, Country Director
United Nations Development Programme, Afghanistan
"I attended two leadership classes that Adam taught. Both exceeded my expectations and provided tools and techniques that I use on a daily basis to improve/enhance the effectiveness of my interactions with others (work and personal). He is highly recommended."
Steven Wagner, Sales Manager
Mid-Atlantic Region, Beckman Coulter
"Adam Vane designs and facilitates leadership, conflict management, creative problem solving and executive coaching programs for managers and directors from over 85 different countries (e.g. India, China, Paraguay, Uzbekistan, Niger, and Jordan). The feedback from this diverse group of leaders ranges from very good to excellent and he is always quite well received. He is one of our preferred vendors and we are pleased to have him as a part of our learning advisory faculty."
Tapan Mishra, Chief
Learning Resource Center, United Nations Development Programme
"Adam's coaching program on group facilitation helped me to engage a challenging group and to prepare a presentation which influenced my audience. His in-the-moment techniques have enabled me to be a more compelling presenter and facilitator in a variety of formal and informal situations in a large, matrixed organization."
Audrey Graber, VP, Training and Development
Citigroup
"Adam's course on conflict management really impacted my life in a positive way. This course is not just about management, but about life, ideology, and psychology and Adam delivered some extremely powerful tools. My first day back at work as Director of two core facilities, I had already to resolve, yet again, a complex situation, and using some of the tools he demonstrated, it went well. I would strongly recommend Adam as a trainer and coach."
Andreas Holzenburg, Director and Professor
Texas A & M University
"Adam's approach is honest, straightforward, creative and humorous. His ability to adapt to various personalities provided him with the edge he needed to clarify particularly difficult topics. His in-depth knowledge came through in his presentations, offering us more insight and information in dealing with people and ourselves. I recommend him highly."
Kristy Jo Winkler, Global Artist Relations Manager
Sennheiser Electronics GmbH & Co, KG
"I found the Heroic Conversations training to be thoughtful and provocative. It is an excellent tool and a useful road map which we have since used at work with colleagues and supervisees. I also used it for a very demanding family situation where it worked brilliantly."
Ruth Messenger, Former Manhattan Borough President, CEO
American Jewish World Service
"Adam's teaching methods were inspirational and his class changed my perspective on how I manage conflicts. He is a knowledgeable leader, a mentor, and I would sign up for any program he teaches in the future."
Amy Esposito, Vice President
Morgan Stanley
"We recently chose Adam Vane to facilitate meetings involving the directors of all five major Community Mediation Centers in New York. Participants included national leaders in the field of mediation and conflict resolution. The goal was to gain consensus on the formation of a new coalition of our respective programs, not an easy task. We made more progress in three meetings with Adam than we did in all our previous meetings combined. I would highly recommend him as a mediation facilitator as he produced significant results for our group."
Robert S. Thaler, J.D., M.A., Director
Queens Mediation Network
"Adam's coaching program on group facilitation helped me to engage a challenging group and to prepare a presentation which influenced my audience. His in-the-moment techniques have enabled me to be a more compelling presenter and facilitator in a variety of formal and informal situations in a large, matrixed organization."
Audrey Graber, VP Training and Development
Citigroup